by Andrew Oxford, Santa Fe New Mexican
June 13, 2017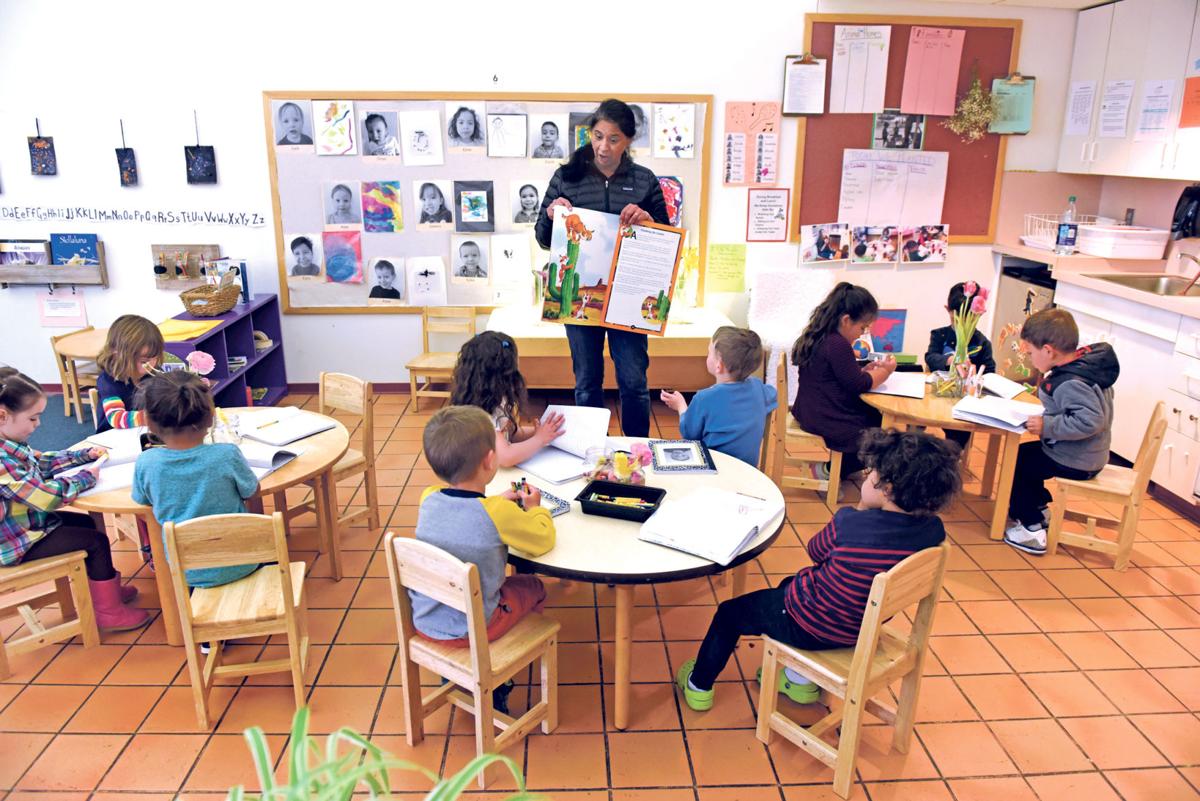 Photo: Clyde Mueller, The New Mexican
New Mexico children remain worse off educationally and economically than their peers in just about every other state, according to the latest Kids Count report, an annual data analysis expected Tuesday. But the new state-by-state report card also shows New Mexico is making progress on improving children's health, with more young people covered by insurance than the national average.
While the Annie E. Casey Foundation's findings for a second consecutive year rank New Mexico 49th in the country for overall child well-being and dead last in education, the state's ranking for child health improved from 44th to 37th.
Advocates say that advance is in jeopardy, however, with President Donald Trump's push to overhaul health insurance and that access to coverage is only a start in improving the health of New Mexico's children.
"The progress is going to be difficult for us to maintain if people don't have access to health care because of cost," said James Jimenez, executive director of New Mexico Voice for Children, which runs the Kids Count program in the state.
The share of New Mexicans without health coverage has declined substantially since Gov. Susana Martinez expanded access to Medicaid under the Affordable Care Act.
But Martinez has been mostly silent on Trump's push to repeal the act and advocates argue his proposal for health insurance reform would roll back access to coverage for low-income adults.
According to recent estimates, more than 200,000 New Mexicans could lose health insurance under a bill passed by the U.S. House of Representatives and pushed by Trump's administration. The state's Medicaid program could lose substantial funding, too. The effects of a separate bill wending through the Senate remain unclear.
The Kids Count report found the share of children without health insurance fell to 4 percent in 2015, below the national average of 5 percent and a steep drop from the statewide rate of 9 percent in 2013.
"That's in huge jeopardy right now given what the bill is that the Senate is now debating," Jimenez said.
When kids are covered, they are more likely to get well-baby and well-child checkups, vaccinations, vision and hearing screenings as well as other preventive care, he added. But Jimenez argued that access to insurance is just one step in improving health.
"Having access to health insurance doesn't mean you're going to be healthy but it's hard to maintain good health if you don't have access to health insurance," he said.
The health of New Mexico's children improved by other measures.
The share of children with low birth weights declined from 8.8 percent in 2014 to 8.7 percent, a small decrease but one that nonetheless reflects a trend advocates say means healthier children and fewer complications at birth. Still, the share of children born in New Mexico with low birth weights remains above the national average of 8.1 percent.
And the mortality rate of children and teens continues to rise while the share of teens abusing alcohol or other drugs remains steady at the national average.
The state's ranking for child economic well-being improved from 50th to 49th as the number of children living in poverty dropped slightly along with the number of children whose parents do not have secure employment.
The state again ranked last in education, with most measures unchanged. An outsize share of New Mexico fourth-graders are still not proficient in reading, an outsize share of eighth-graders are not proficient in math and the share of high school students not graduating on time is still larger than the national average.
The Annie E. Casey Foundation's annual reports rely on data previously published by various government agencies. But by comparing New Mexico to other states while New Mexico remains in many ways left out of the nation's economic recovery, the rankings have stoked a partisan debate over poverty, health care, education and the general direction of a state grappling with its legacy as one of the poorest in America.
The report's authors offered it as a call to boost funding for education and other services that they argue can improve the quality of life for children as well as their families.
"Leadership and public calls for investing in the next generation are lacking," Patrick McCarthy, president and CEO of the Annie E. Casey Foundation, wrote in a forward to the annual report. "Rarely do we have serious discussions about prioritizing the needs of children, even though failing to do so threatens America's future."
Nationwide, the report found, more parents are working, a record number of children have health insurance, teenagers are increasingly likely to graduate high school and less likely to abuse drugs and alcohol. But child poverty rates remain high and many children continue to test below grade level in reading as well as math.
"Even where we see improvements, deep racial and ethnic disparities remain," McCarthy wrote.
New Hampshire, Massachusetts and Vermont ranked best for overall child well-being. Mississippi, New Mexico and Louisiana ranked last, same as in the 2016 report.
New Mexico Democrats have pointed to the rankings in arguing that the state should drastically boost funding for early childhood education and preventive care.
The state House of Representatives passed a resolution this year that would have asked voters to dedicate a larger share of revenue from New Mexico's multibillion dollar land grant endowment for pre-kindergarten programs.
But the long-running effort floundered in the state Senate, where relatively conservative Democrats opposed touching the permanent fund.
Meanwhile, the Martinez administration has argued policy, not funding, is the main obstacle to improving the quality of education in the state, focusing instead on reforms it contends will make schools more accountable and bring more students up to the same level as their peers.
Public Education Department Spokeswoman Lida Alikhani said the governor opposes using a larger share of revenue from the permanent fund to pay for education.
"Gov. Martinez and her Administration have tripled the funding and doubled the amount of students enrolled in Pre-K," Alikhani said in a statement. "We'll continue to invest in our children to ensure even more New Mexico kids have a chance to succeed."
Copyright 2017, Santa Fe New Mexican (http://www.santafenewmexican.com/news/local_news/state-makes-gains-on-kids-health-but-for-how-long/article_632fd086-f1d3-5d13-bdbd-8249d566250d.html)